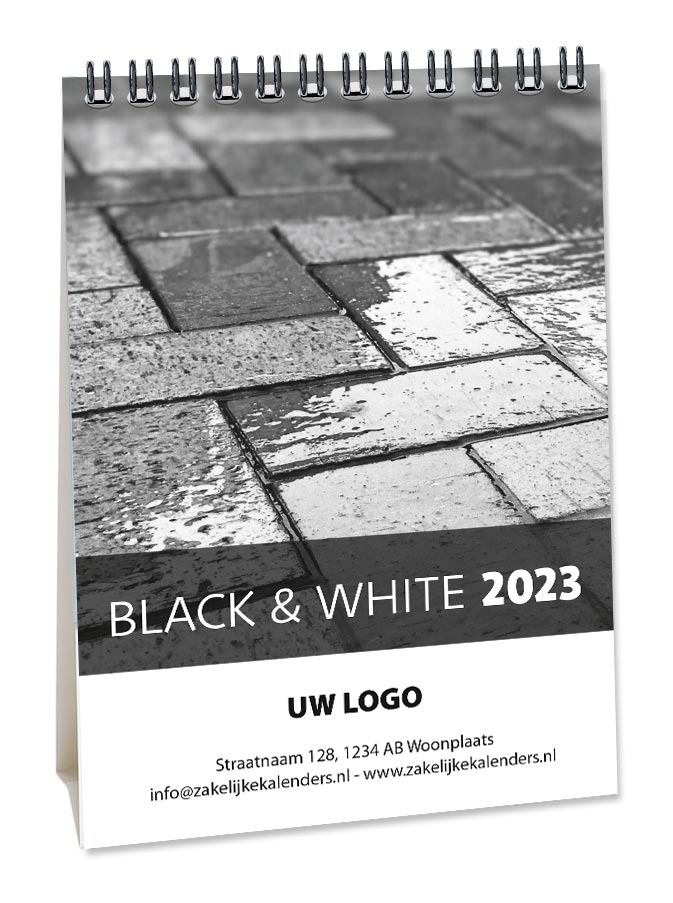 A6 Bureaukalender Black & White 2023
Deze compacte kalender past op elk bureau. Neutrale afbeeldingen in grijstinten waarbij jouw logo altijd goed uit de verf komt.
Het is een mooi cadeau om weg te geven aan klanten of relaties. Op elk kalenderblad kunnen eigen logo en bedrijfsgegevens worden gepresenteerd. Op die manier ben je een jaar lang in beeld bij jouw relatie.
Zeer geschikt met eigen beeld
Je kunt deze bureaukalender helemaal eigen maken: eigen beelden en logo kunnen gepresenteerd worden en op het laatste blad een corporate verhaal. Ook gieten we de opmaak in jouw huisstijl. Vraag naar de mogelijkheden!
Formaat
Formaat kalender = 21 x 14 cm.
Aantal bladen
7-bladig systeem op een stevige kartonnen staander.
Prijzen A6 Bureaukalender Black & White 2023
25 – 49 exemplaren: euro 6,25 per stuk
50 – 99 exemplaren: euro 5,95 per stuk
100 of meer exemplaren: euro 5,35 per stuk
Indrukken logo en/of adresgegevens: gratis
Gebruik van eigen beelden: meerprijs in overleg (minimale afmeting beeld: 21 x 14 cm bij 300 dpi.)
Minimale afname is 25 exemplaren.
Alle genoemde bedragen zijn excl. btw
Optioneel
Kalenders kunnen tegen meerprijs per stuk geseald geleverd worden.
Desgewenst kunnen wij ook enveloppen leveren.
Wil je een groter aantal kalenders bestellen?
Neem dan het offerteformulier in op deze pagina voor een offerte op maat.
Bestellen Bureaukalender Black & White
Vul onderstaand formulier zo volledig mogelijk in en wij nemen contact met je op om de bestelling af te handelen.
Offerte aanvraag Bureaukalender Black & White
Vul onderstaande offerte aanvraag zo volledig mogelijk in. De offerte volgt dan al snel in je mailbox!